Troubleshooting Server Installation
From Edge Threat Management Wiki - Arista
Jump to navigation
Jump to search
Video Issues
Occasionally Untangle can not correctly detect video card/monitor settings to successfully display onto the monitor. This can happen in several ways:
The monitor flashes and then displays a black screen with a message or login prompt
The monitor just displays noise after the bootup is complete
The monitor displays correctly but the screen is much too big requiring scrolling with the mouse.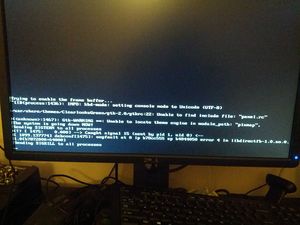 Things to try:
Restart the server and select a different boot mode in the bootup kernel selection menu.
Try various BIOS settings that may affect video.
Try another monitor, and reboot after switching. The monitor should be plugged in before powering on Untangle.
If you are using a KVM (keyboard-video-monitor switch), remove it and connected the peripherals directly.
Try another video card.
Re-burn the CD/ISO at a slower speed, or re-create the USB/IMG, and reinstall.

Also note that changing resolutions is supported, but can sometimes lead to issues. If this is the case reboot the server in Video Safe Mode.
UEFI Issues
The Untangle UEFI Installer does not support UEFI SecureBoot, so SecureBoot must be disabled in your hardware's firmware menu prior to installing.
Unfortunately, not all UEFI implementations are written equally, which may cause issues when installing NG Firewall via UEFI on some hardware. If NG Firewall fails to successfully install via UEFI, check to see if your hardware's firmware can be configured for legacy BIOS boot and attempt to install using the normal installer. Otherwise, check out the Debian project's UEFI page for some tips on troubleshooting UEFI based installs.
https://wiki.debian.org/UEFI#Quirks.2C_workarounds_and_special_UEFI_features_in_Debian_and_Debian-Installer